Fort Pillow Massacre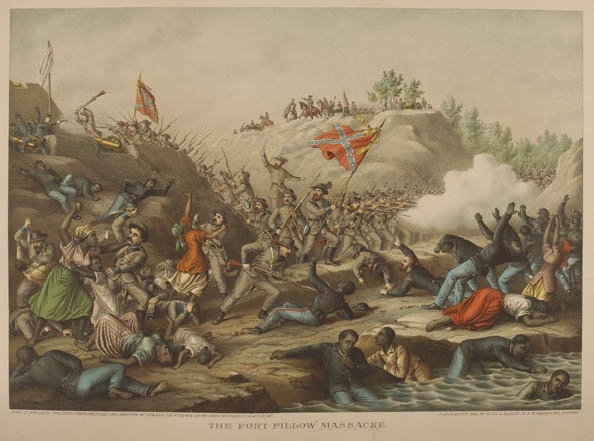 Fort Pillow Massacre - Kurz & Allison, Chicago, Ill.
On April 12, 1864 General Forest and 1500 men captured Fort Pillow manned by 550 Federal's, half of which were black. It was alleged that Forest murdered most of the prisoners including black women and children. Black men were burned and buried alive. Forest founded the Ku Klux Klan following the war.
ďAll the negroes found' in blue uniform or with any outward marks of a Union soldier upon him was killed-I saw some taken into the woods and hung-Others I saw stripped of all their clothing, and they stood upon the bank of the river with their faces riverwards and then they were shot-Still others were killed by having their brains beaten out by the butt end of the muskets in the hands of the Rebels. All were not killed the day of the capture-Those that were not, were placed in a room with their officers, they (the Officers) having previously been dragged through the town with ropes around their necks, where they were kept confined until the following morning when the remainder of the black soldiers were killed."
Battle Cry of Freedom pg793
William Wells Brown, The Negro in the American Rebellion, p233