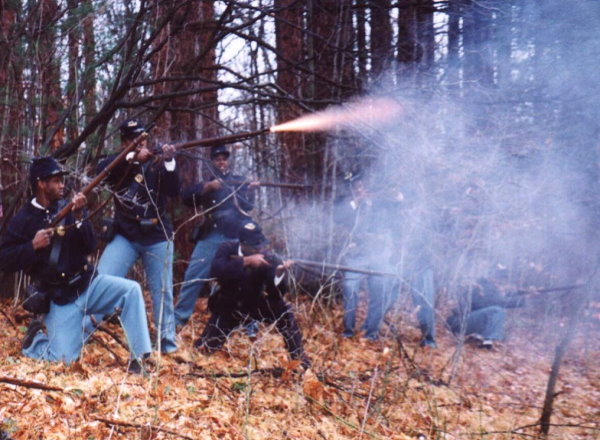 "Will the slave fight? If any man asks you, tell him no. But if any one asks you will a Negro fight, tell him Yes!"
Wendell Phillips
The military component is represented by a Civil War re-enactment group called 102nd Company C USCT (United States Colored Troops). Most participants are under 23 years of age. The 102nd represents the Black Civil War regiment from Michigan. Company C is supported by a group of experience re-enactors that belong to the 102nd USCT Company B, the 8th Michigan Infantry Co. C and members of the Cumberland Guard. The colored unit was also supported by Confederate re-enactors such as the 5th Texas. These older and experience re-enactors are mentors and trainers for the young men in Company C.
Military re-enactors include Chris White, Sean White, Lou Penton, Curtis Thompson, Ramon Guines, Dana Milton; Yahel Scott, Edward Ward, Ronald King, Darryl Grace, Curtis Thompson, Dr. Larry Reynolds, James Wheeler, Nora Sykes and Flint Genesee Job Corps Center volunteers.
Battle Of New Market Heights Re-enactment – New Market Heights was a rebel strong hold that guarded the capitol of the Confederacy, Richmond Virginia. Black troops broke Richmond's outer defenses making the fall of Richmond inevitable. They received 14 Congressional Medals of Honor making the battle the highest honored event in African American history.
Sons of slave owners paying respect to sons of slaves