Courtesy of www.RebelStore.com
By the summer of 1862 Northerners were growing tired of being defeated by the South and fighting in the Civil War. The Union was running short of men. While stationed in New Orleans and short of men, Brigadier General Benjamin Butler turned to the free Black residents of New Orleans to help fight the war. New Orleans had a population of 150,000, of which 18,000 were slaves and 10,000 were free Blacks (James Parton, General Butler In New Orleans, P130). They were members of a Confederate regiment called "1st Louisiana Native Guard." Free Blacks were enrolled by Andrew Jackson in the War of 1812 and again enrolled by Governer Moore in 1861(James Parton, General Butler In New Orleans, P134). They were the first Black regiment to be formed and they have the distinction of being the only Black regiment to be commanded by Black officers. Some were slave owners and some were mulattos. Would they switch sides and fight for the freedom of all Blacks? Butler had the following conversation with a group of them:
"But," I said, "I want you to answer me one question. My officiers, most of them, believe that negroes won't fight."
"Oh, but we will, "came from the whole of them.
"You seem to be an intelligent man, "said I, to their spokesman;
"Answer me this question: I have found out that you know just as well what this war is about as I do, and if the United States succeed in it, it will put an end to slavery." They all looked assent.
"Then tell me why some negroes have not in this war struck a good blow somewhere for their freedom? "General, will you permit a question?" "Yes."
"If we colored men had risen to make war on our masters, would not it have been our duty to ourselves, they being our enemies, to kill the enemy wherever we could find them? and all the white men would have been our enemies to be killed?"
"I don't know but what you are right," said I. "I think that would be a logical necessity of insurrection."
"If the colored men had begun such a war as that, General, which general of the United States army should we have called on to help us fight our battles?" That was unanswerable.
"Well," I said, "why do you think that your men will fight?"
"General we come from a fighting race. Our fathers were brought here slaves because they were captured in war, and in hand to hand fights, too. We are willing to fight. Pardon me, General, but the only cowardly blood we have got in our veins is the white blood."...
Better soldiers never shouldered a musket. They were intelligent, obedient, highly appreciative of their position, and fully maintained its dignity. They easily learned the school of soldier. I observed a, very remarkable trait about them. They learned to handle arms and to march more readily than the most intelligent white men. My drillmaster could teach a regiment of negroes that much of the art of war sooner than he could have taught the same number of students from Harvard or Yale. "…
Again, their ear for time as well as tune was exceedingly apt; and it was wonderful with what accuracy and steadiness a company of negroes would march after a few days' instruction…
Again, white men, in case of sudden danger, seek safety by going apart each for himself. The negroes always cling together for mutual protection. "
General Ben Butler, Butler's Book, Benjamin Butler, p492
On May 27, 1863 the first large battle that included a Black regiment occurred at Port Hudson Louisiana. Butler had mustered them into Union service making them the first Black regiment to service the Union and the only Black regiment to have all Black officers. Butler's First Regiment of Louisiana Native Guard lived up to their promise to Butler that they would fight with courage and honor. They attacked a heavily defended Confederate fort over five times until their force of 900 men was cut down to less than 300. The following article appeared in the New York Tribute.
" From " The New-York Tribune," June 8, 1863: -"Nobly done, First Regiment of Louisiana Native Guard! Though you failed to carry the rebel works against overwhelming numbers, you did not charge and fight and fall in vain. That heap of six hundred corpses, lying there dark and grim and silent before and within the rebel works, is a better proclamation of freedom than even President Lincoln's. A race ready to die thus was never yet retained in bondage, and never can be. Even the Wood copperheads, who will not fight themselves, and try to keep others out of the Union ranks, will not dare to mob negro regiments if this is their style of fighting. "
W. W. Brown, The Negro in the American Rebellion, p175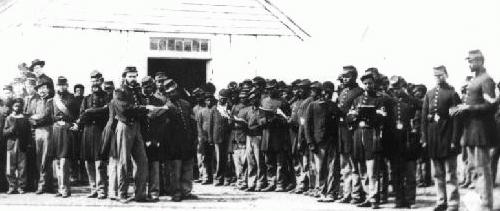 During the siege of Port Huston, a new school house was erected for the black soldiers who had been enlisted in that vicinity. When the school opened, the following speech was made by a colored soldier, called Sergt. Spencer. Spencer gave the following speech at the schools dedication.
" I has been a-thinkin' I was old man; for, on de plantation, I was put down wid de old hands, and I quinsicontly feeled myself dat I was a old man. But since I has come here to de Yankees, and been made a soldier for de Unite States, an' got dese beautiful clothes on. I feels like one young man ; and I doesn't call myself a old man nebber no more. An' I feels dis ebenin' dat, if de rebs came down here to dis old Fort Hudson, dat I could jus fight um as brave as any man what is in the Sebenth Regiment. Sometimes I has mighty feelins in dis ole heart of mine, when I considers how dese ere ossifers come all de way from de North to fight in de cause what we is fighten fur. How many ossifers has died, and how many white soldiers has died, in dis great and glorious war what we is in ! And now I feels dat, fore I would turn coward away from dese ossifers, I feels dat I could drink my own blood, and be pierced through wid five thousand bullets. I feels sometimes as doe I ought to tank Massa Linkern for dis blessin' what we has ; but again I comes to de solemn conclusion dat I ought to tank de Lord, Massa Linkern, and all dese ossifers. 'Fore I would be a slave 'gain, I would fight till de last drop of blood was gone. I has 'cluded to fight for my liberty, and for dis eddication what we is now to receive in dis beautiful new house what we has. Also I hasn't got any eddication nor no book-learnin', I has rose up dis blessed ebenin' to do my best afore dis congregation. Dat's all what I has to say now ; but, at some future occasion, T may say more dan I has to say now, and edify you all when I has more preparation. Dat's all what I has to say. Amen."
W. W. Brown, The Negro in the American Rebellion, p281